all stories on this page by
with characters and character designs created by Rumiko Takahashi, Capcom, and Lara Bartram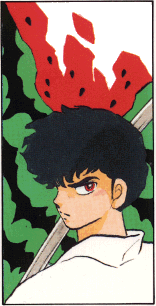 Yeah, so I like Kunō.  Sue me.  Anyway, I started this story shortly after the local Putt Putt Golf & Games got Darkstalkers 3, and the only character I played was John Talbain.  Yes, he's the werewolf.  If you've ever seen the game (or Darkstalkers 1 or 2) then you know how I picture the werewolves in this series.  If you haven't, Dan Root (I could have sworn he said David) graciously recolored and touched up some pics for me of Talbain.  Chris Willmore morphed a picture of Gosunkugi for me as well.
Anyway, I've broken the series up into chapters.  The actual parts in each chapter are of no real consequence other than to not make you download a 200 KB file all at once.  They're not real chapters, more like separate little adventures.  Each one deals with a different point and a different set of problems presented to Tatewaki Kunō.  Once a school laughing stock, now he is an honest to God teenage werewolf.
Oh yeah, most of these parts have LEMON content!  Some violence too, so take care.
---
Chapter 1 is the genesis of Kunō and the seeming spiral his life descends.
---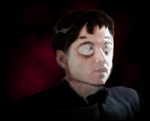 Chapter 2 has a small... challenge arise that Kunō and... Kasumi? have to deal with.
---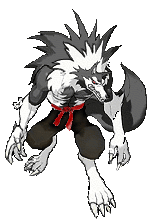 Chapter 3 brings forth another, more deadly challenge.  If Chapter 2 was rough, 3 is worse.
---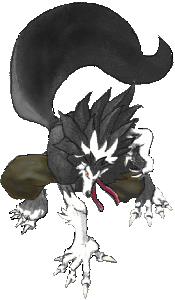 Chapter 4... a rather ambitious undertaking that I hope I can pull off.  To find a cure, drastic measures and an amazing journey must be taken.

It picks up immeditaely after the end of Chapter 3.
---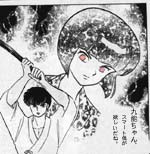 Interlude – This picks up immediately after chapter 4 ends.  All loose ends introduced in 4 will be wrapped up, maybe some you didn't even know existed. This is a pointless lemon written somewhat in, somewhat out of WiSC continuity.  Somewhere after 4 if you want to try to fit it in someplace.
---
---